Hip-Hop Internacional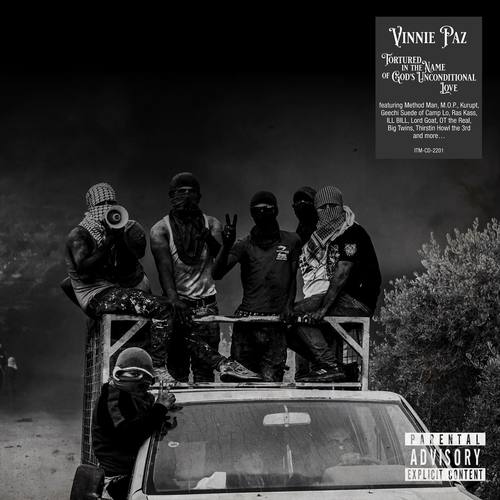 El incondicional del rap underground, Vinnie Paz, vuelve con su séptimo LP de estudio, Tortured in the Name of God's Unconditional Love. Este LP de 18 canciones llega tras el décimo álbum de Jedi Mind Trick, The Funeral and the Raven, que salió a la venta en noviembre de 21, y sucede al lanzamiento el 21 de abril del sexto LP de estudio de Vinnie, Burn Everything That Bears Your Name.
Con una duración de casi una hora de música nueva, el contundente LP es uno de los discos con más apariciones de Vinnie hasta la fecha, con colaboraciones de Method Man, M.O.P., Kurupt, Geechi Suede (Camp Lo), Ras Kass, ILL Bill, Lord Goat, Big Twins, Thirstin Howl the 3rd y muchos más. Además, Pazienza recurre a los talentos de producción de DJ Muggs, C-Lance, Stu Bangas, Oh No, Vic Grimes, Aaron Hiltz, Agor, Beatnick Dee y DJ Rybe sentar las bases de sus paisajes sonoros.
Durante las dos últimas décadas, Pack Pistol Pazzy se ha situado entre los artistas de hip-hop indie de mayor éxito comercial en el underground, y con su último trabajo en solitario su legado no hace más que reforzarse.