Hip-Hop Internacional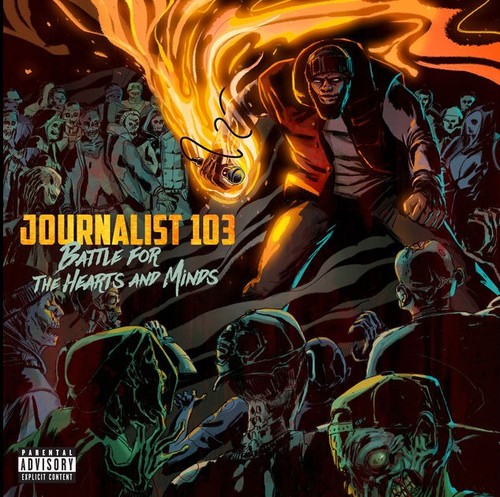 Era falta de tiempo por lo que no hemos puesto hasta ahora Battle For The Hearts And Minds, lo nuevo de Journalist 103, porque de los lanzamientos que salieron la semana pasada, a primera escucha, sería lo más destable junto a DJ Rude One. Para quien no conozca a Journalist 103 decir que fue el MC que estaba detrás del proyecto The Left que sacó aquella obra magna llama The Gas Mask justamente alabada por medios y público. Desde su debut en el trabajo de Proof, el de Detroit no ha parado de demostrar que está preparado para contar las penas de su ciudad natal, venida a menos con la crisis, y del Hip Hop actual. Esas cualidades le han llevado a colaborar con gente como Kool G Rap, Freeway, Fashawn y Saigon entre otros.
Con el primer trabajo en solitario, Reporting Live, solo sirvió para confirmar el talento mostrado en The Left. Y en este Battle For The Hearts And Minds más de lo mismo, una línea creativa que continúa en una lucha para cautivar la imaginación de los aficionados del Hip Hop en todo el mundo. Journalist dibuja se erige con su espada lírica como un protector de la cultura con un álbum centrado en Detroit con apariciones invitadas de un conjunto de estrellas de MC's de Motor City

Mientras que poníamos el streaming, ha salido este clip del tema Evil Eye, dirigido por Diego Cruz. Track producido por Sultan Mir.
Colaboran Ahk; Big Tone; Clear Soul Forces; DJ Los; Guilty Simpson; MarvWon; Nametag; Nolan the Ninja; Ockz; One Be Lo; Ray Hummingbird & Willie the Kid. Producen DJ Stresh; MarvWon; N95; Sultan Mir; The Returners & Trillian