Letra de Marme's Bakery
Ye! this is for the culture
for the real one's
for the hip hop lovers
for the family
pa mis ladys y mis fellas
this is forever

Nervión 98, Tweaz


Cruzando el charco como Dothrakis
chequea mi praxis, you know about me ?
It's all for the Franklins, spitting spicy rap shit
back in the days, smart kids from the 90's bringing classics.

Ill nigars rapping, Hilfiger & Lauren
lazy motherfuckes trying be famouses
No saben ni enchufar los Technics
I make money on my mind but the money don't make me.


It's Tweaz baby, one of the greatest
pongo el nivel en la cumbre del Teide y tu de ser mi fan a ser mi hater
bruh, ¿tu no lo entiendes?
perro que muerde la mano del amo ni a base de palos aprende, ten fe, mira quien vuelve.


Golden P., tablas como Kelly Slater
double trouble escupiendo codes, underrated
This is for the culture, undertaken
primo esto es la costa, alligators.



Back in the house, once again!
en el nombre del Marme del micro y el vinilo
you know my steelo?
if you don't know, now you know
let's go
this is for real yo!
and you don't stop
so drop the mic & check this rhymes



Si pillo el mic i'm feeling the chosen, raw shit
tactical movements ''Shadow Moses''
Mixing up the Henny with the Frosties
te hago mover el cuello como el Us Open.


¿Who the fuck you think you talking to, broski?
los dedos manchaos de tanto diggin en el corner
Sueno like a pro supposed to, Fat Phillip
no he hecho la mili, escupo raps hasta que echo la bilis. (game over)


Escucho samplers de R' Kelly, bangers de Alchemist
bumpeo Rocksteady, cuido mi aesthetic
Olvida esa peli you ain't not ready
aunque te maten y vuelvas al game bajo el name de Makaveli.


No manejo un Pontiac sipping cognac
me calzo a Sonia en el closet del Calzedonia
cuando muera escribe en mi memoria
que hice del Marme historia como Marty McFly y el Delorian.


L.A Mobb
98' Nervión what's going on?
El Marme está en la casa Bitch!
this is real shit
esto es La Costa Nostra
aquí sonamos like suppose to
se os acabó el rollo , it's over


No escribo una línea suelta, to tiene sentido
vengo de esa escuela primo, así lo aprendimos de críos
Sucesores de esta jerga (keeping it real)
por eso cuido de mis frases como cuido a los míos. (word)


Estaba escrito, straight up! chico
traigo lo mejor al micro hasta la fecha cómo Stretch & Bobbito
Nos atraemos por los polos y no hablo de imanes
por eso duermo entre caballos y caimanes.


Pa los que saben, ¿yo al Marme? lo que Biggie a Brooklyn
ellos hacen bullshit, rappers pussys
Rookies en el draft dicen ''dales music''
y yo los veo a tos iguales como el Kage Bunshin.


Ya lucía la corona mucho antes del virus
otro par de J's, otro par de Reebok
Tu otro rapero que no salió a cuenta
y ahora es madero, pero cuenta con los dedos como el jefe Wiggum.

Escucha la canción
Trabajos relacionados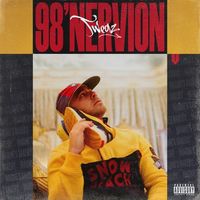 Tweaz - 98' Nervión