Letra de We rip mics (con Mykill Miers, Kev Brown & Elphomega)
[Mykill Miers]
I´m the, loon assasin like Lee Harvey Ozborn,
uh, and I set it off like ball braws,
you wanna play hard ball, step to the plate.
I ain´t scared of no man, I tell him straight to his face, you ain´t shit.
Don´t let the kay spit, I ain´t for play bitch,
you get your face split, so face it!
You have ran on against the wrong knot,
I´m mad point break and I don´t give a fuck.
So what you gonna do? It already been done to me.
I´m having fun man, and you´re gonna run from me.
Yo, I´m like the dawn of the dead.
I´m hard to kill with the seven lawns in your head.
Hommy, I´m slick with words,
mentally disturbed Dag, when I spit this verse.
And I´m a keep it Basic,
I´m classic like a new pair of k-swiss.

[Cres]
O un Dee Jay haciendo malabares con 2 platos
Breaking it down, pocos le dan al mic mi trato.
Holding it down como Books y Dre-sí así de brillante.
El Cres…está en otro nivel, como Andrés el Gigante.
Antes o después tendrás que darte cuenta.
Quedarte con mi parte del pastel no está en el plan de ventas.
No quiero acciones violentas, solo que entiendas
que si me cortas las alas yo a ti te corto las piernas.
Ojo por ojo, te aplico la ley del talión.
Si no eres trigo limpio estiro y te arranco de cuajo cabrón,
de raíz. ¿Que significo algo pal rap español yo?
No sé. Sé que bendigo a la madre que me parió.
Y no defraudo! Siempre salgo a corazón abierto.
Sabes que invierto en música mi sueldo y mi tiempo.
Y se sale porque estoy en movimiento
moviendo tu cuello y me vale con eso,
es más, me recupero porque me estás oyendo!!
Thank you

[Kev Brown]
Another paragraph written with lines… and never forgettin…
classic joints that´s the mission.
Ever lasting, get older and pass ´em
off to the next like a Baton with no hurdle…
the circle I hang with, nothing to play with.
In your face with the kicks, snares and bass rips.
We make this on regular basis,
on the rise like a spaceship for greatness.
It´s no holding back.
Out to get the gold platinum plack.
To bring it home alter the fact.
It´s only right, what´s the next height to move to?
Pay dues, it´s nothing else left to prove dudes.
Kev Brown stay nice with the rapping, about rapping…
stay tapping the drum pads of crafting.
Joints that send cats back to the lab…practicing!
Venues packed again, yeah!!

[Elphomega]
Otra vez serio como Stacey Keach,
mensajes…baked beans kid.
Estoy al pitch, no veas que Flex ahí en el classic.
Un espectro, ni lo ves venir.
Un pantera del sur,
cada spot que asalto es una cicatriz, que sientes tú?
Soy half nine thousand.
Mc´s corriendo como en Faluya,
salto antes que me destruyan las clausulas.
Me atracan al sacar la basura.
Un mendigo de skit row,
con un acero azul, wow, sin duda!
Un día de furia. Lo predigo aquí,
igual que Pans a Tony Fill, it´s what it is.
¿Quien se queja?
En las cloacas nunca cejan los beats.
Life style de un crip.
Stay tuned and flip this, street hits!
Brillante pa los crios como un flash de lima.
It´s P-H, ya sabes que prima
si pongo el pie en la cocina.
Te hago ñokis con skills de Robin.
Yes I´m rockin, i´m knockin,
I´m the heaven´s donkey, monkey shocking, okey dokey!!
Escucha la canción
Trabajos relacionados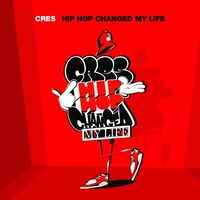 Cres - Hip Hop Changed My Life